Audubon in Japan, 1872
Welcome to our new Magic Lantern series, where we spotlight a singular image that we think deserves wider exposure. When magic lanterns were first invented in sixteenth-century Italy, illusionists used them to conjure spectral images of demons and ghosts before astonished audiences. Even as technology's ability to replicate images has became the stuff of everyday life, a vivid picture retains an evocative power that words seldom equal. But images mean little without context, so we'll do our best to share our findings about the background and provenance of these weekly images as well.
---
Our first installment is a print by an anonymous Japanese artist from the 1870s. Remarkably, it depicts the famous naturalist John James Audubon. And even more remarkably, it shows Audubon looking forlornly at a fleeing rat: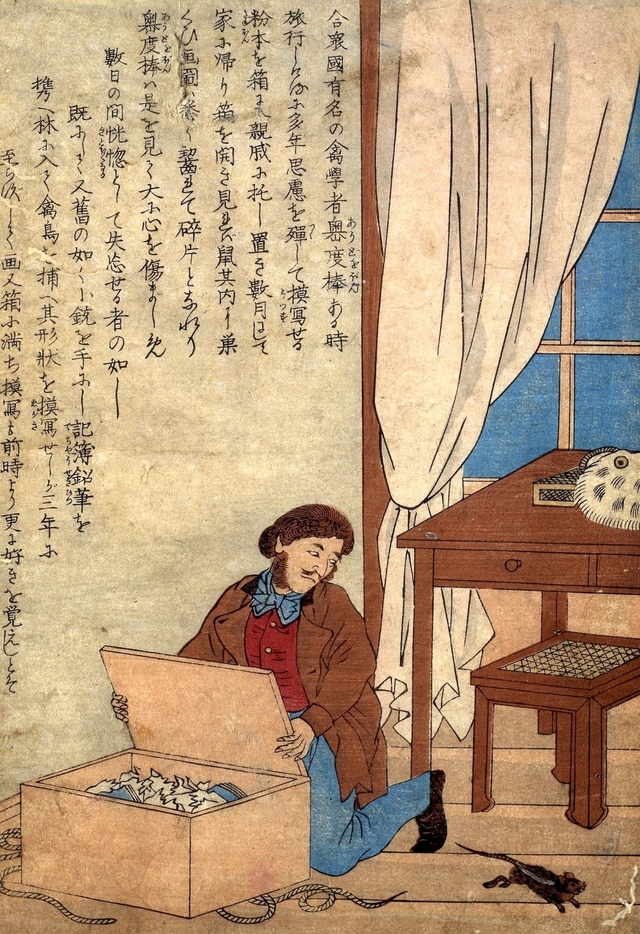 Audubon, it turns out, was a crossover hit with the nature-loving public of Meiji Japan. He became so popular that an anecdote involving the destruction of his sketches of "nearly a thousand inhabitants of the air" by Norwegian rats was memorialized in this striking woodblock print.
Read more at the New York Historical Society's blog.
For more links to good writing and interesting discoveries, follow us on Twitter, Tumblr, and Facebook.